JOHANNESBURG maternity PHOTOGRAPhy
I'm a Johannesburg maternity photographer, creating stunning pregnancy photos for discerning expectant mom clients since 2005 looking for professional maternity portraits.
Time flies. I can stop it.
You deserve unique and emotive photos of the extraordinary life within you.




Examples
View my maternity portfolio; you will see how I can capture your glow and emotions with strikingly crafted lighting.
Simple Pricing
It is a value-for-value exchange and an incredible investment.
I charge a professional rate of R2500 for my time, equipment and creative juices.
From an incredible selection of images, you will buy those you love. What you purchase is entirely up to you.
Images are sold individually and are R750 each.
Clients
If you are looking for artistic maternity photos alone, with your partner, children, or pets, a memorable experience and investment that never stops giving, you are my typical client.
Posing
Trust me to lead you in posing so you feel comfortable, beautiful and empowered.
Many maternity poses include a hands-on tummy and eyes looking down to express emotions and connection to your much-awaited baby.
Other pregnancy poses emphasise the beautiful curves of your body and emotional connection with your family.
You will be surprised at how at ease you will be throughout your maternity session.
Expression
Please leave it to me to draw out and capture pregnancy's gentle power and emotion with my energy and passion.
Retouching
I specialise in the most comprehensive and detailed editing but focus on a natural retouching method. Less is more.
My Style
It is crucial to choose a maternity photographer whose style resonates with you. My style is simple, timeless, not overpowered with props or unnatural posing, and never trendy.
Your Photographer
I will be your photographer, never outsourced to another. If I can't take your photos, I will reschedule your session.
Choose a professional maternity photographer with a gallery of consistent professional images, making me the perfect choice.
Wardrobe
Plan your wardrobes well in advance—nothing worse than forgetting an essential item.
I have a beautiful selection of materials for draping and wrapping, plus complimentary maternity gowns for your session.
Wardrobe Suggestions
Nothing; barely there
Regular jeans (not maternity ones) and a camisole top
Oversized buttoned white shirt
The long, flowy or form-fitting dress
Buttoned-up or turtleneck jersey
Neutral strapless bra and seamless underwear
Black bra and panty set for black background photos
White/ivory bra and panty set for white background photos
Lingerie sets
Tube top or tummy band
Coordinated outfits for those joining the shoot
Favourite scarves, accessories, jewellery
Sentimental items – wedding veil, sari
If you don't want your arms to show, cover them.
If anything needs dry cleaning or ironing, take care of it.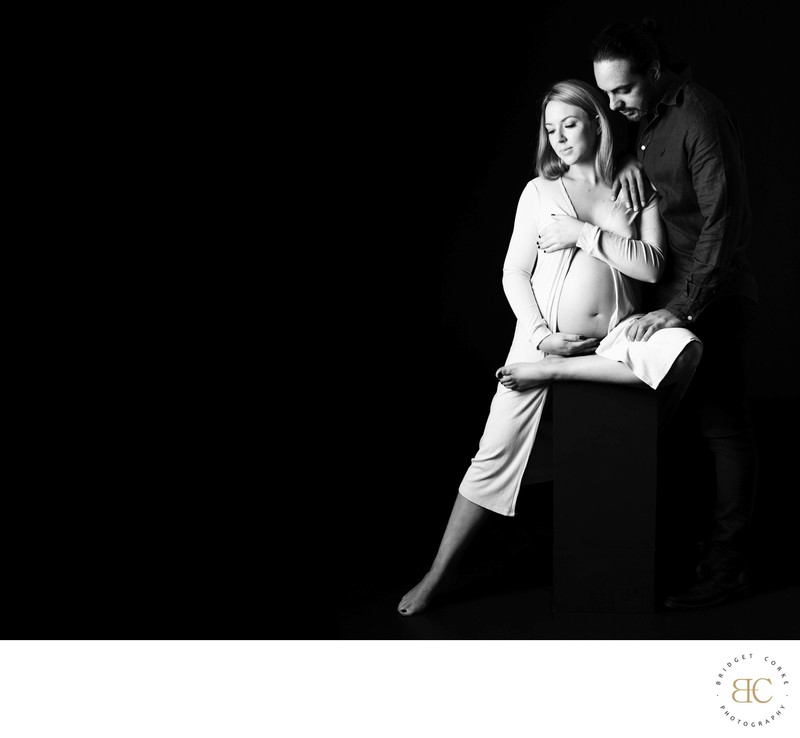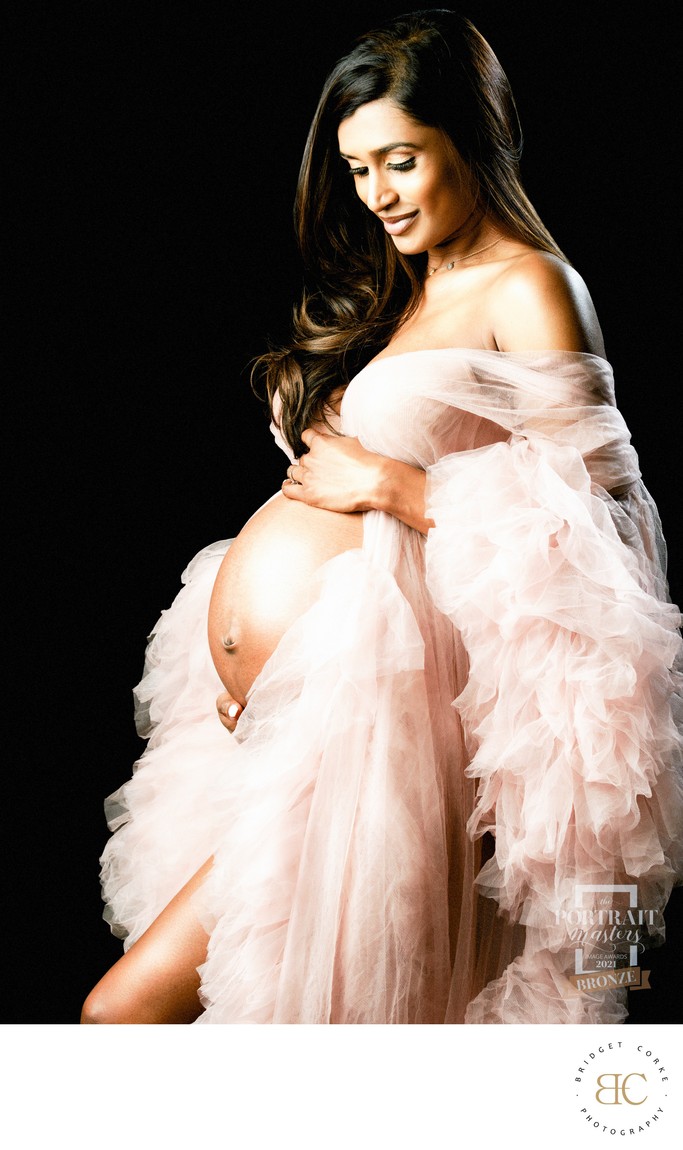 Hair
If your visit to the hairdresser is due, go a week before the shoot; this way, the cut will grow a bit, and you will have time to get used to it.
Hands and Nails
So often overlooked, trim everyone's nails as they become the second act when interacting. If you colour your fingernails, choose a neutral or clear tone.
Professional Makeup
I recommend natural makeup over complete makeovers but can arrange professional makeup for an additional fee. Drink water the day before and on the day of your session. It reduces puffiness.
Backgrounds
I use black and white backgrounds for my maternity photos.
Lighting
I typically use a simple one-light setup to accentuate your face and hands on your bump against a black background or to create a silhouette.
Bonus
My standards are high - let me capture an award-winning maternity portrait photo for you.
I am thrilled to be among only two photographers in Africa awarded a Master's portrait accreditation from the Portrait Masters with the most maternity awards.
Next 3 Easy Steps
1. SCHEDULING
Plan your maternity session between 28 - 35 weeks. I will happily work with you if this time doesn't work for you.
2. CONSULTATION
Your maternity photo session is tailored specifically for you and includes a pre-shoot telephone consultation. We will discuss wardrobe, lighting and posing styles. To form a picture of your vision and ensure your expectations become a reality, I will ask you to send me examples of maternity photos you like.
3. SESSION
Even if it is your first time in front of the camera, and you don't know how to pose, I will direct and guide you - that is my superpower. My goal is to ensure you look connected and relaxed. I will help you select the very best. You purchase the photos you love. What you buy is entirely up to you.
TERMS & CONDITIONS
Your session begins at your scheduled start time. If you arrive late, your session will end at the planned time. Your full session fee still applies.
Your session fee is non-refundable for no-shows.
Bridget Corke Photography reserves the right to use your images for self-promotion.
I am a VAT-registered business.
Regarding the South African Reserve Bank regulations, I am obliged to invoice South African Rands (ZAR).
JOHANNESBURG PORTRAIT PHOTOGRAPHER

© 2005 -2023 Bridget Corke Photography

Blairgowrie, 2194, SOUTH AFRICA

International Master's accreditation from

The Portrait Masters, one of only two in Africa

bridget@bridgetcorke.co.za

+27828814044