JOHANNESBURG personal branding PHOTOGRAPHer
I'm a Johannesburg portrait photographer, creating striking personal branding photos for discerning clients since 2005, looking for professional portraits that stand out from the average.
Your online networking and branding are more important than ever, so your first meeting with the public must be a high-quality photo.
Headshot vs Portraits
A headshot is a head-and-shoulder photo to show what you look like.
View my headshot portfolio for examples.
On the other hand, personal branding portraits are less formal and more enlightening - they should tell a story of who you are. It can be a head and shoulders, from the waist up or show the complete figure.
Whereas headshots are pretty straightforward, a portrait allows for artistic license, i.e. the use of dramatic light or props that could be used to tell a story about yourself.
Examples
View my branding portfolio of my client's exceptional portraits, and you will realise you have found a professional portrait photographer with a gallery of consistent professional images, making me your perfect choice.
Simple Pricing
It is a value-for-value exchange and an incredible investment.
I charge a professional rate of R2500 for my time, equipment and creative juices.
From an incredible selection of images, you will buy those you love. What you purchase is entirely up to you.
Images are sold individually and are R750 each.
First Impressions Count
Are you looking your best?
Most clients arrive a little nervous; my superpower will dispel your anxiety and create portraits for you personal branding that make you look:
approachable
authentic
authoritative
comfortable
competent
friendly
honest
interesting
natural
professional
relaxed


Clients
You are my typical client if you are looking for personal branding portraits:
personal
professional
business
corporate
actor
accountant
advocate
artist
attorney
authors
banker
doctor
educator
engineering
Executive
journalist
lawyer
model
online dating
physician
politician
real estate
reporter
speaker
athlete
sportswomen
student
surgeon
teacher
therapist
veterinarian
victim
writer
Posing
It is not your job to know how to pose; it is mine to guide and direct you throughout.
I pay close attention to the seven posing rules - chin, shoulders, hands, hourglass, body language, asymmetry and connection.
Expression
Please leave it to me to draw out and capture your authentic self. If you want a friendly smile or an exciting and severe expression, I will capture that of you. You will leave knowing I work hard at achieving these expressions, with plenty of laughter thrown in.
Retouching
Less is more. I specialise in the most comprehensive and detailed editing but focus on a natural retouching method.
Cropping
I shoot a flexible three-quarter image - a 4:6 ratio- which gives cropping flexibility for a headshot. I also offer a 1:1 and round format. We will discuss your cropping requirements before your session.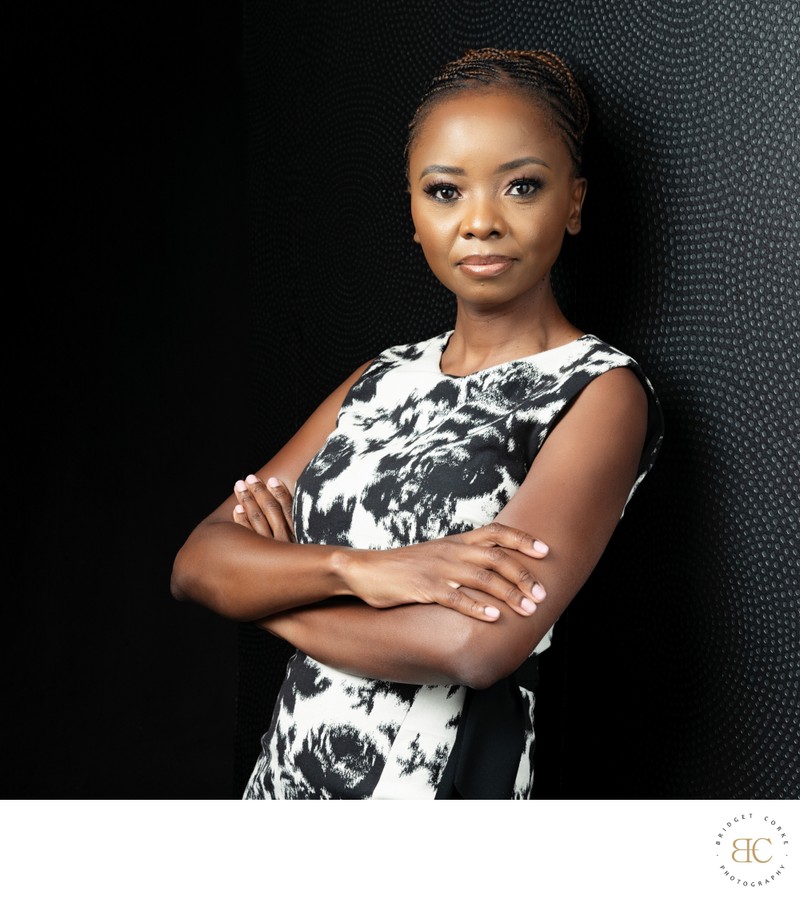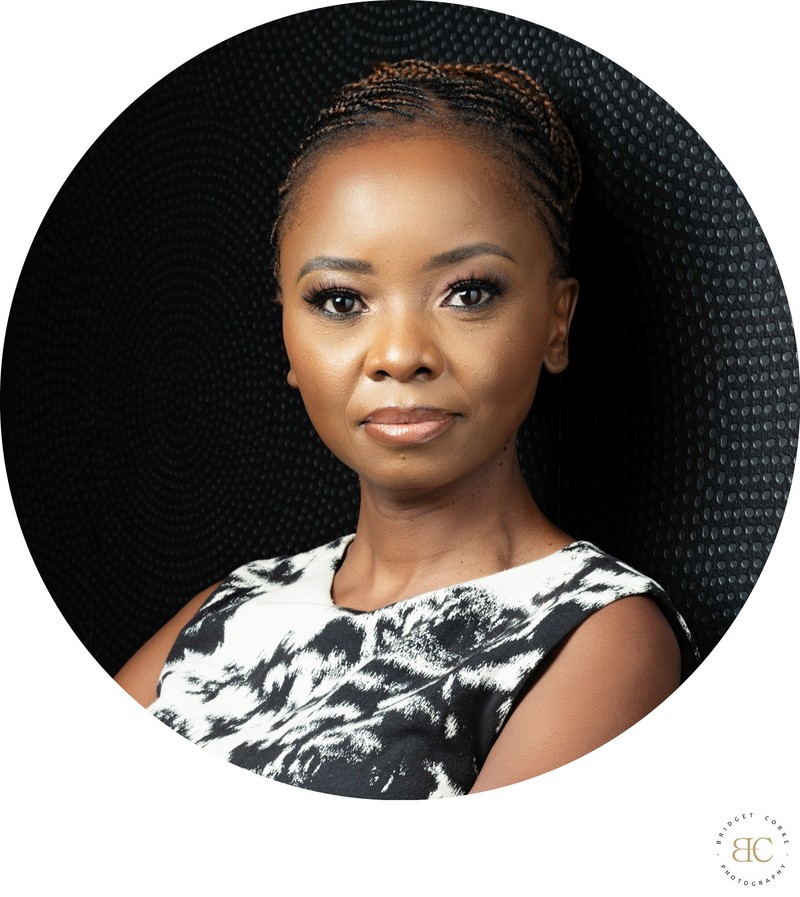 Applications
I produce eye-catching personal branding portraits for annual reports, marketing material, online dating, personal branding, presentations, social media platforms, and Z-cards for acting and modelling applications.
Online Platforms
In today's business world, much of our networking is online.
Your branding portraits will be prepared for social media platforms like Facebook, Instagram, LinkedIn, Twitter, WeChat, WhatsApp, YouTube and Tinder.
My Style
Choosing a personal branding photographer whose style resonates with you is crucial. My style is simple - not overpowered with props or unnatural posing - and never trendy.
Your Photographer
I will be your photographer. I never outsource to another. If I can't take your photos, I will reschedule your session.
What to wear
Plan your wardrobe well in advance—nothing worse than forgetting an essential item.
Your wardrobe should be appropriate. You must look the part.
Bring your wardrobe on hangers to prevent it from getting creased - don't wear it.
You can do as many wardrobe changes as you like - time permitting.
General Wardrobe Suggestions
Solid colours are safe.
A fresh white or checked collared buttoned shirt and a black, charcoal or dark navy suit work well on dark and light backgrounds.
Dark colours are slimming.
Collared shirts should not be loose or tight.
Layering gives interest, and flowing chiffon blouses hit the mark for women.
Prints and florals can work.
If you don't want your arms to show, cover them.
If anything needs dry cleaning or ironing, take care of it.
For online dating portraits, bring what you wear on a first date.
If you are still unsure, bring everything. I'll help you select.
Smartwatches are not timeless.
Keep jewellery to a minimum.
If you usually wear glasses, your headshot and portrait should show you wearing them. Anti-reflective lens coatings are best. If you don't have anti-reflective glass, remove them or use blank frames.
Hair
If your visit to the hairdresser is due, go a week before the shoot; this way, the cut will grow a bit, and you will have time to get used to it.
Hands and Nails
So often overlooked, ensure you trim your nails. If you colour your fingernails, choose a neutral or clear tone.
Professional Makeup
I can arrange professional makeup for an additional fee; however, your going-on-a-date makeup and hair will work. I recommend natural makeup over complete makeovers. Drink water on the day of your session. It reduces puffiness.
Backgrounds
I use black, white and textured backgrounds for my studio headshots. I bring basic white and dove-grey sets for corporate location headshot shoots.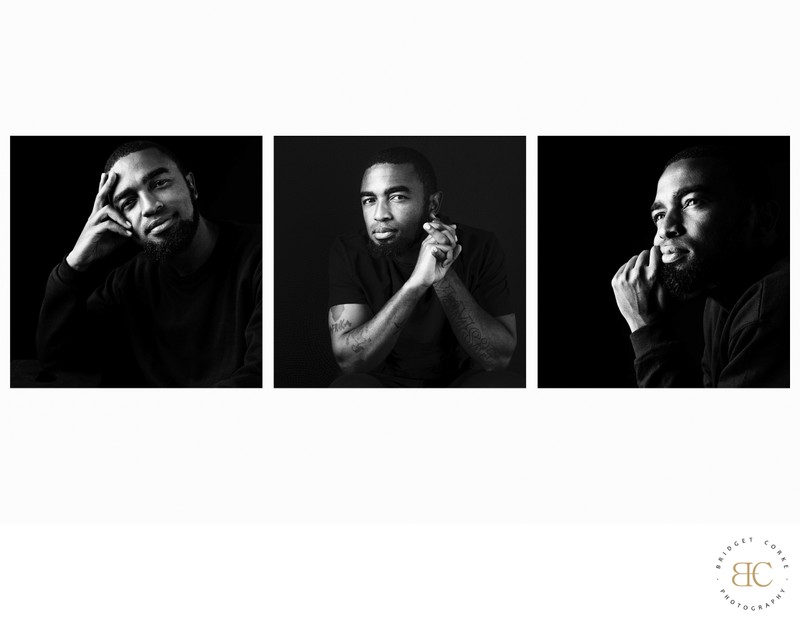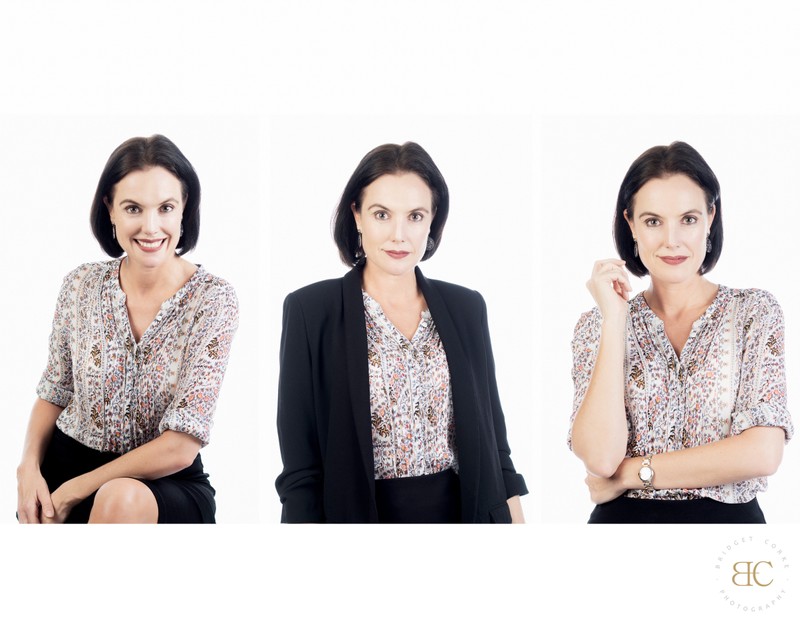 Bonus
My standards are high - let me capture an award-winning headshot for you.
I am thrilled to be awarded a Master's from the Portrait Masters - one of only two in Africa.
How To Book Me
1. SCHEDULING
Plan your personal branding session two weeks ahead. I will happily work with you if this time doesn't work for you.
2. CONSULTATION
Your personal branding photo session is tailored specifically for you and includes a pre-shoot telephone consultation. We will discuss wardrobe, lighting and posing styles. To form a picture of your vision and ensure your expectations become a reality, I will ask you to send me headshot photo examples you like.
3. SESSION
We will discuss if you require both headshots and portraits. I will ask you to send me examples you like to make your expectations a reality. Even if it is your first time in front of the camera, and you don't know how to pose, I will direct and guide you - that is my superpower. My goal is to ensure you look connected and relaxed. Together, we will go through your images after your session. I will guide you to help select the very best. You purchase the photos you love. What you buy is entirely up to you.
TERMS & CONDITIONS
Your session begins at your scheduled start time. If you arrive late, your session will end at the planned time. Your full session fee still applies.
Your session fee is non-refundable for no-shows.
Bridget Corke Photography reserves the right to use your images for self-promotion.
I am a VAT-registered business.
Regarding the South African Reserve Bank regulations, I am obliged to invoice South African Rands (ZAR).
JOHANNESBURG PORTRAIT PHOTOGRAPHER

© 2005 -2023 Bridget Corke Photography

Blairgowrie, 2194, SOUTH AFRICA

International Master's accreditation from

The Portrait Masters, one of only two in Africa

bridget@bridgetcorke.co.za

+27828814044